If you're looking for a Honda crossover SUV, the 2020 Pilot and the 2020 Passport are both exceptional options! The 2020 Passport is great for those who want a big 2-row crossover SUV that drives incredibly. It's stockpiled with standard driver assists such as Adaptive Cruise Control and Automated Emergency Baking. The 2020 Honda Pilot is also an excellent crossover. Visibility and safety are what this SUV excels in. With the expansive glass area, thin windshield pillars, large side mirrors, and a multi-angle reversing camera, it's very easy to see out of the Pilot. So, which of these two Hondas should you buy? Looking at the differences in features may help you make your decision.

2020 Honda Passport Features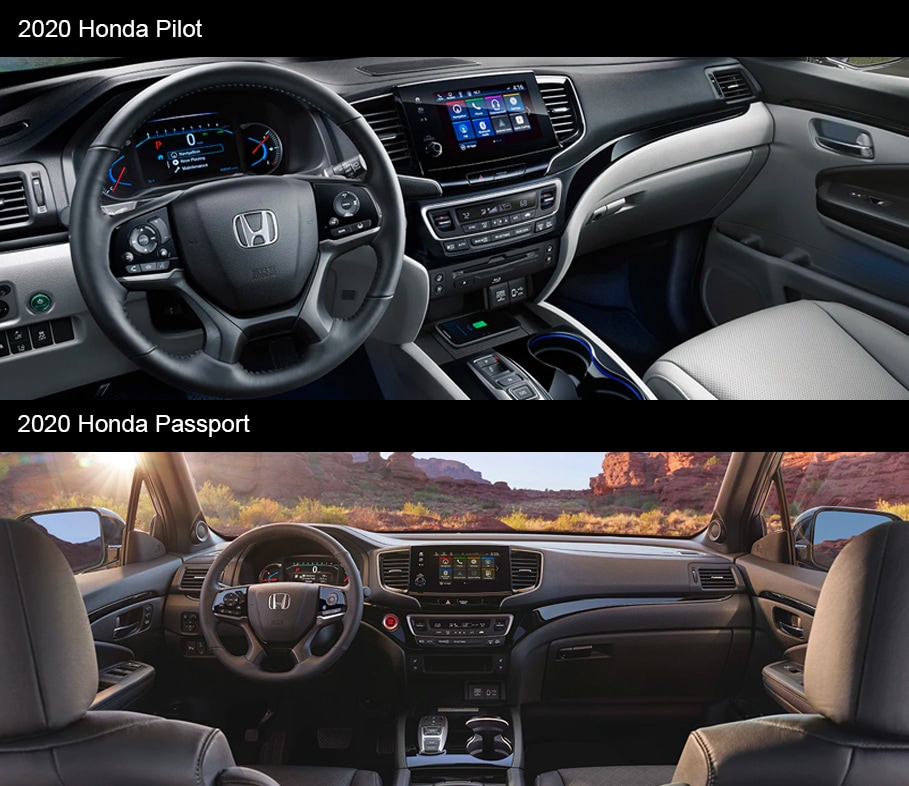 The 2020 Honda Passport boasts an exceptionally comfortable and commodious interior, with plenty of room to store cargo. Along with optional all-wheel drive, every model is powered by a quick and refined V-6 powertrain. The 2020 Honda Passport has some of the best spaciousness, sportiness, and value for a crossover SUV. Additionally the 2020 Passport offers an 8.0-touchscreen with Apple CarPlay® and Android Auto™ integration, Blind-Spot Monitoring, heated front seats, leather-appointed upholstery, a power liftgate, and Rear Cross-Traffic Alert.
2020 Passport vs 2020 Pilot Technology & Performance

Under the hood, both the 2020 Passport and the 2020 Pilot have a 280-hp 3.5-liter V-6 and nine-speed automatic transmission. The 2020 Pilot comes with features like: a power sliding second row, 3-zone climate control, a heated steering wheel, heated and ventilated front seats, heated second row seats, retractable sun-shades integrated into the second-row door panels, a power rear liftgate, a single-pane sunroof with an optional sunroof at the rear, and a unique "Cabin Talk" public address system that allows front seat passengers (parents) to address rear-seat passengers (kids) through the vehicle's speakers. The Passport is available with all of this, except for the power-sliding second row, panoramic sunroof and PA system.
2020 Passport vs 2020 Pilot Interior
The 2020 Pilot comes with high-quality materials making it look and feel as luxurious as it is long-lasting. The driver's seat shines in terms of comfort. Your daily commute will be a breeze as the Honda Pilot is relatively quiet and very comfortable. The clear sightlines and powerful V6 engine will enable you to navigate your way through traffic with remarkable ease. Due to its large size, the Pilot gives you visibility benefits and maneuverability in the city, making it easy to park. It has a strong and efficient engine, roomy and practical interior, plenty of available tech, six-speed automatic transmission, and the exterior relative to a minivan. The 2020 Passport is also comparable in terms of interior with the 2020 Pilot. With ample cargo space and hidden storage compartments, the 2020 Passport is built for an adventure!