The Honda Accord and the Toyota Camry both had impressive redesigns back in 2018, both of which brought a sophisticated design as four-door midsize sedans. Let's compare each of these sedan's features for the 2020 models to help you decide which one is best for you and your family.

2020 Honda Accord Racine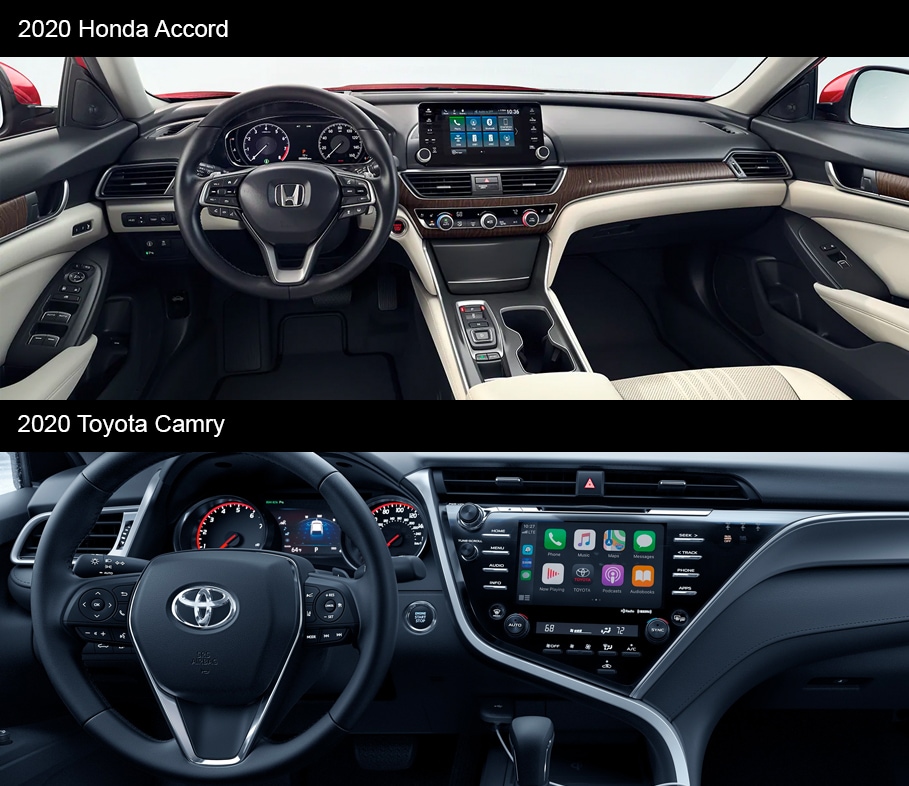 The Honda Accord's last redesigned model was in 2018, but it's new look brought in a more sophisticated design with its flat grille, smooth body, wider headlights, and extended rear glass. In 2020, the Honda Accord preserves this appearance, making it one of the more premium-looking vehicles in its class without a luxury nameplate attached to it.
2020 Honda Accord vs 2020 Toyota Camry Performance

The 2020 Camry has a sporty appearance, however, this doesn't translate in terms of performance. The 2020 Honda Accord broke convention in 2018, dropping its V-6 engine in favor of a 252-horsepower 2.0-liter four-cylinder engine. This boosted four-pot sprints to 60 mph in just 5.7 seconds with the 10-speed automatic and 6.2 seconds with the six-speed manual! That sprint time makes the automatic-equipped Accord 2.0T quicker than the Camry TRD in a straight line. The 2020 Toyota Camry has the traditional midsize sedan engine setup with its standard 2.5-liter four-cylinder and optional 3.5-liter V-6. The 2.5L four-cylinder pumps out 203 to 206 horsepower and 184 to 186 horsepower on the 3.5L V-6. It also pairs to an eight-speed automatic transmission that delivers the power to the front wheels for a 7.6-second 0-to-60 mph time.
2020 Honda Accord vs 2020 Toyota Camry Features
Both the Honda Accord and Toyota Camry offer plenty of features that come standard on their base models. The 2020 Toyota Camry L comes standard with 16-inch steel wheels with hubcaps, bi-LED headlights with auto-on/off, LED daytime running lights, color-keyed power side-view mirrors, and door handles, an acoustic noise-reducing windshield, and more. The 2020 Honda Accord LX is similar to the Camry L's standard features, but has standard 17-inch alloy wheels offering a leg up to the Camry's 16-inch steel wheels. In terms of size, they both come close in comparison, but the Accord is slightly larger in each measurement. The 2020 Accord is, however, lighter than the Camry when comparing equal trim levels.
2020 Honda Accord vs 2020 Toyota Camry Interior and Space
In terms of interior space, they are also similar, but the Accord is slightly larger in each measurement. The Honda Accord's cabin fits its exterior to perfection with its symmetrical design and a focus on horizontal lines. It also offers a thick-rimmed steering wheel and a generous infotainment screen making your driving experience pleasurable. As for interior room, the 2020 Honda Accord is more spacious than the Camry, especially in front headroom and rear legroom that provides 1.2 inches and 2.4 inches respectively. It also wins in cargo room by up to 2.6 cubic feet.
2020 Honda Accord at Racine Honda
If you're interested in the exceptionally designed 2020 Honda Accord, look no further than Racine Honda! We have many new Honda vehicles that are ready for you to test drive. Come visit us today to learn more about the 2020 Accord. We are conveniently located so our customers can have easy access to us. Call or visit us today, we look forward to working with you!